BELLE BABYSITTERS – DUNEDIN BASED BABYSITTING AGENCY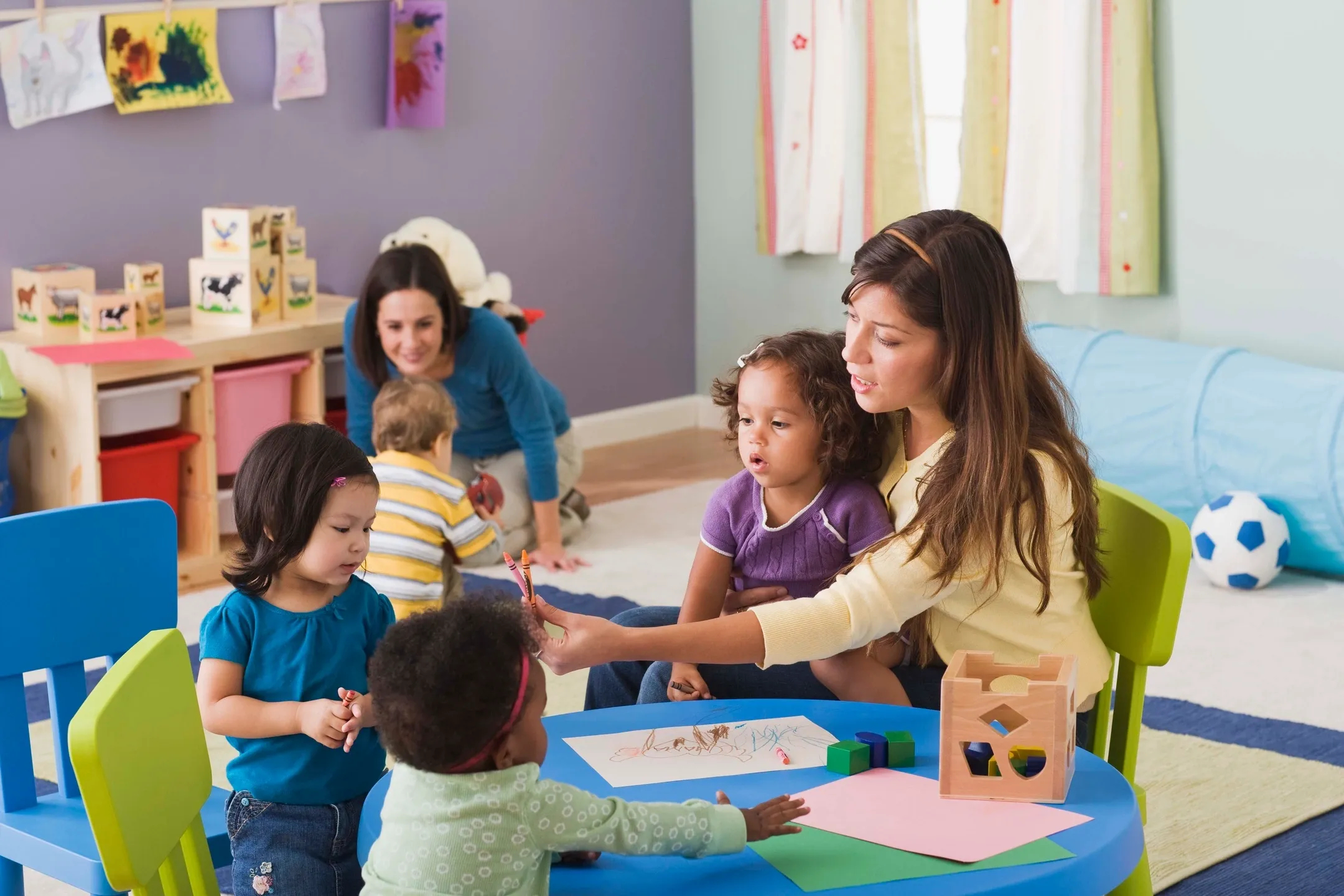 BELLE BABYSITTERS LTD –
DUNEDIN BASED BABYSITTING AGENCY…
You can relax when we provide a babysitter for you!
---
If you are ready book a babysitter use our buttons below:
---
---
If you need more information, choose the appropriate button below:
---
---
---
SUMMARY INFORMATION ABOUT US:
We offer a range of babysitters who will come to your home during the day or evening / overnight. They will entertain, and as necessary, feed and bath your child / children and follow their usual routines / bedtime activities, settle them to sleep, and attend to them at any time should they wake. We also provide Hotel / Motel sitters for those that are on holiday or business in Dunedin. We can also organise multiple babysitters and set up a child friendly area within any Corporate / Conference / Sport / Wedding and other such events.
We have a great team of babysitters, all are over 18 (most over 20), and include nannies, university students, childcare workers, nurses, teachers, and empty nest parents, many qualified in a child related industry, and all with lots (multiple occasions in a minimum of 2 settings) of practical experience with children and babies.
All of our sitters are experienced, thoroughly referenced (2 references minimum, at least one related to childcare) and all pass both personal and police vetting checks. All our babysitters have completed a 2-hour training induction course and have a current first aid certificate. Additionally, all of our babysitters live within the Dunedin area and will have their own transport arrangements to get to and from where you need them.
We can often provide a sitter at short notice, but generally it is advisable to allow one week or more if you wish to request a particular sitter and to ensure you are not disappointed if your plans are on a popular night for sitters e.g. Rugby Games and Concerts.
Babysitters are available all hours both 7 nights a week for evening work and also 7 days a week for day time babysitters. We can often provide babysitters at short notice to cover a child's illness and we will always attempt to find a babysitter for any emergency care (all hours) or overnight stays. Contact us to discuss an option to suit your individual requirements. Use this link "Enquiry Form" to email us with a general enquiry.
---
Our Babysitters
All of our babysitters have been thoroughly screened and police checked to ensure the safety of your children. All of them hold current First Aid Certificates and have had at least some sole charge childcare experience (multiple occasions in 2+ settings). All have provided 2 referees (at least one childcare related). All have undergone a 2-hour training session. Most have a full drivers license and access to their own vehicle. Most are aged 20+ (all 18+ minimum). Our babysitters include university students (many studying teaching), or qualified in relevant child areas such as teachers, nurses / doctors and social workers, additionally many of our babysitters are also experienced parents / grandparents. Read more…
Here is a sample of our current babysitters:
---
Reviews:
We have acquired many happy customers since we opened in December 2012. Here is our six most recent reviews, but if you need further reassurance, please browse through the scroll bar for many more.
---
I have used Belle Babysitters twice before while we have been staying in Dunedin and the service was great both times. The babysitters were punctual, friendly and engaged well with my daughter. Both times I booked the babysitter at short notice and they were very accommodating. I would highly recommend their services and will definitely be using them again when I'm next in Dunedin.
Diane Bishop, April 2022.
★★★★★
Fantastic service. Booking process was super easy and thorough. Our sitter Sophie S was excellent and I highly recommend her as a sitter. Her care for our girls was fabulous.
Nic, January 2022.
★★★★★
This was a really hassle free and great service. My daughter said her babysitter was 1000/100. I enjoyed hearing from my daughter about their adventures together on my return home.
Ellie, May 2021.
★★★★★
This booking couldn't have been any better. Our babysitter had a motherly touch on the care she delivered. It was short and sweet (before school care). Her questions / clarifications were sensible and made me feel her genuine intent to provide proper care for my daughter. It felt so nice to leave knowing my daughter was in good hands. Love to have her back soon.
Glosan, January 2021.
★★★★★
We were very pleased with the service overall, so thanks again. This was a first time for us, but we feel comfortable and encouraged to use your services again. The babysitter was punctual arriving 10 minutes early, she gave us a summary of the evening at the end and was excellent overall. She was friendly, engaging, helpful and cleaned and tidied up as our child slept.
Jeff, December 2020.
★★★★★
The babysitters (all 3) were fantastic with engaging the children from our three combined families and getting to know them. It was also great, they were able to distract the children as all the various parents left. They sent us updates via text several times which we very much appreciated. We were really happy with the babysitting service.
Grace, January 2020.
★★★★★
---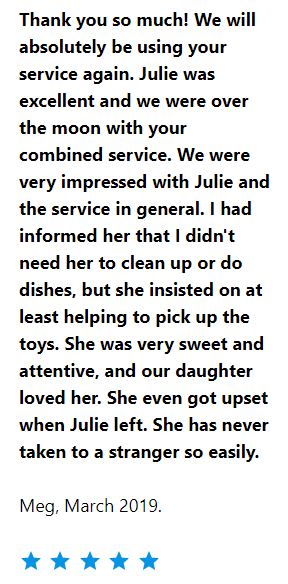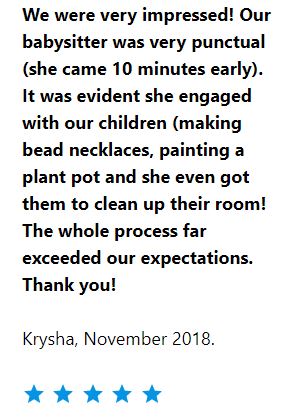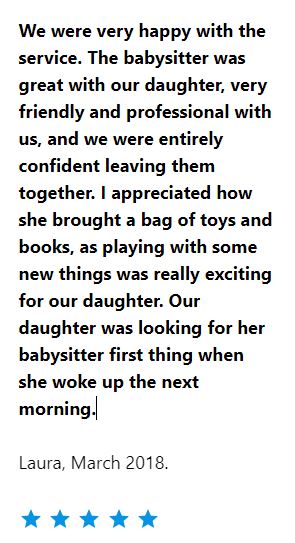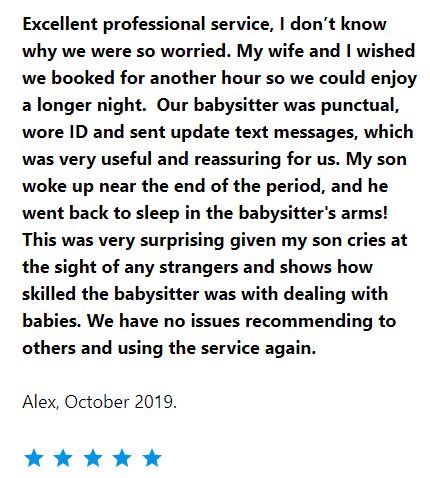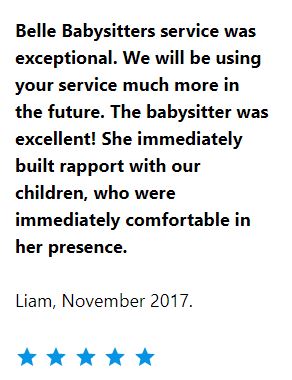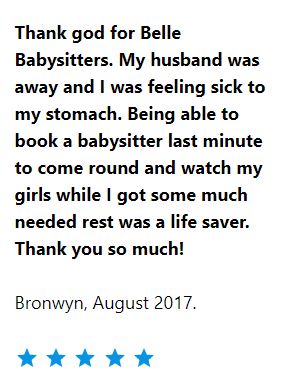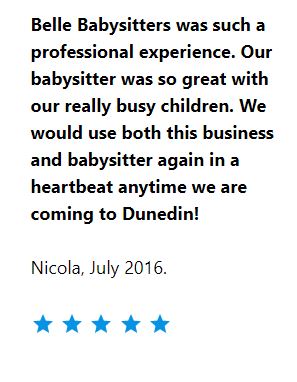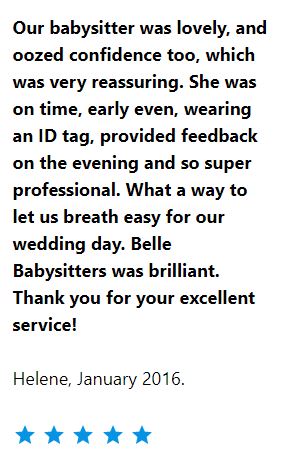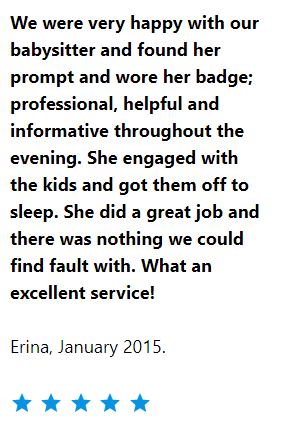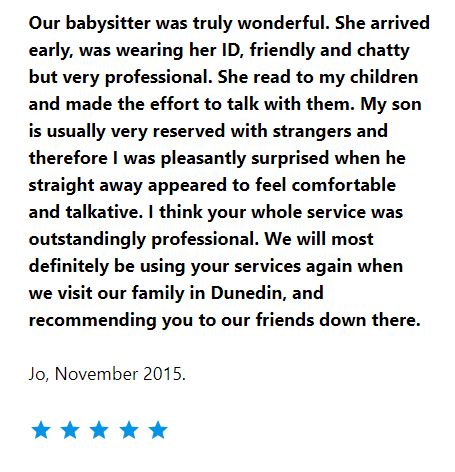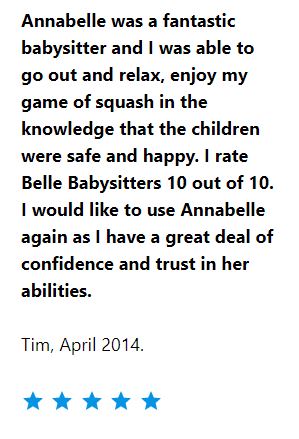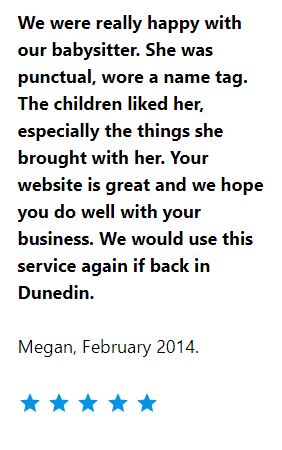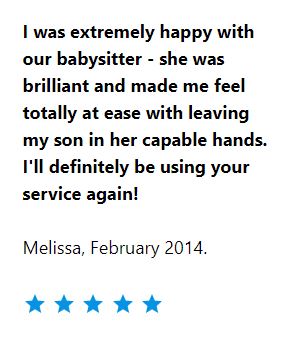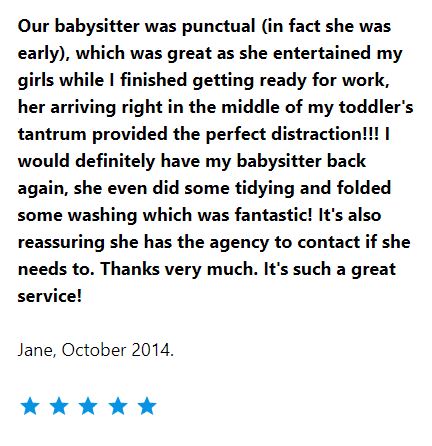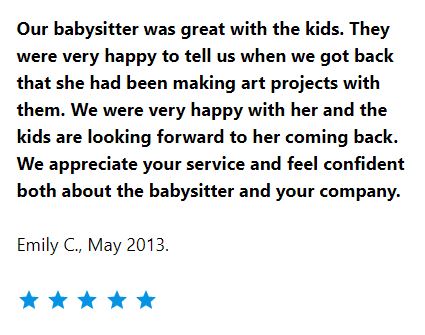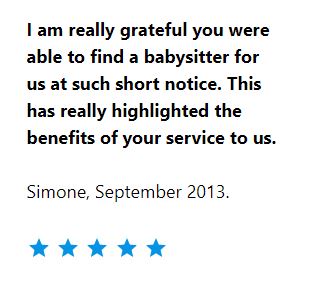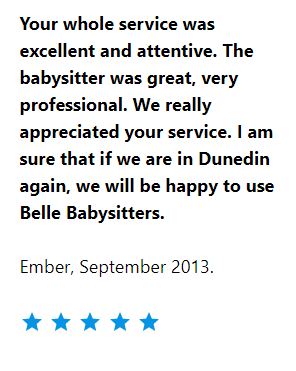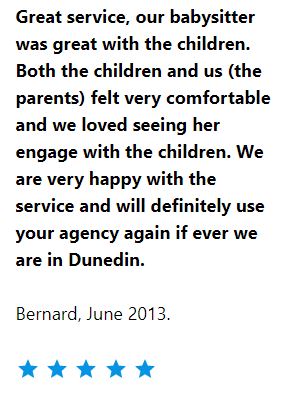 ---